What to do on this Web site:
Read Lots of Background Information!
Find Out Who Our Benefactors Are!
See if You Recognize Our Trustees!
Try to Make Sense of Our (outdated, irrelevant) Gallery Guide!
You Missed Treasures of the Collection!
And Also Favorites from the Permanent Collection!
Now on View Permanent Collection of the Favorite Treasures!
Old News: Sotheby's handled sale of royal conquistador collection.
CLICK for details.
The El Dorado Conquistador Museum accepts donations of cash delivered or mailed to El Dorado Conquistador Museum. Where the money goes...
At El Dorado Conquistador Museum, all the old faves
—Cortez, Columbus, Pizarro, DeSoto and others—
are immortalized in paint-by-number plaster-of-Paris reliefs.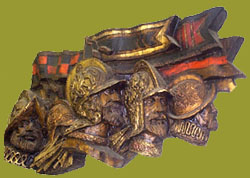 With more than 50 conquistador masterpieces in various mediums, from pressed plastic to black velvet to hardened foam, the El Dorado Conquistador Museum boasts the largest collection of conquistador kitsch
in the world!
As Cake Magazine wrote,
"The meddlesome Mayas, Incas, and Aztecs are long gone thanks to Diego de Almagro and others, but their art lives on in a discovery from a local Salvation Army of a Maya calendar that doubles as a hotplate."
El Dorado Conquistador Museum
"Where Conquest is Kitsch."